Why Do Mothers Choose to Continue Breastfeeding Even After 6 Months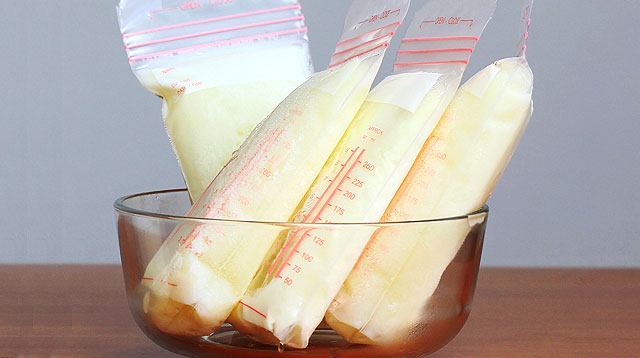 Breastfeeding is a choice, but one cannot deny the perks breast milk offers for both the mom and baby. One of those unique benefits is it contains antibodies that become your baby's first line of defense against illnesses. Other kinds of milk cannot replicate the protection breast milk gives your baby.

To show how breast milk does wonders for her baby, Ashlee Chase, a mom for the Pennsylvania, posted on Facebook a photo of two bags of breast milk, expressed only three days apart, but they look entirely different in color. The bag with white breast milk was expressed when her 7-month-old daughter, Elliot Audrey, was healthy, while the bag with yellowish breast milk was expressed when she was sick with fever and nursing was the only way she could be comforted. It was also around the same time that her elder daughter Peyton was ill, too, with high fever and strep throat.

According to Ashlee, she decided to post the photo to answer once and for all why she still nurses her Elliot Audrey. She told Yahoo Lifestyle that she knew that the color of breast milk changes for several reasons, but she still consulted her daughter's pediatrician if the yellow breast milk was safe to give to Elliot. Her doctor said the change in color meant there was "more fat and antibodies on the milk" to help her baby fight an infection. True enough, big sister Peyton's illness lasted for a week, while baby Elliot only endured a slight fever and a runny nose.

It's not the first time a mom noticed a change in her breast milk's color when her baby is sick. Mallory Smothers, a mom from Arkansas, posted a similar photo on Facebook back in 2016. She shared that she read in a medical journal how a mother's body tailors the breast milk it produces to address her child's nutritional needs.

As the baby nurses, the mother's mammary glands receptors get clues if the baby is sick or fighting an infection through your baby's saliva. "[The] mom's body will actually change the milk's immunological composition, tailoring it to the baby's particular pathogens by producing customized antibodies," Molly wrote.

Mallory observed the difference in the color of her breast milk, which was expressed a day apart, since she directly nurses her baby during the night and only uses the pump in the mornings. "Look at how much more the milk I produced Friday resembles colostrum…and this comes after nursing the baby with a cold all night long," she wrote. "The human body never ceases to amaze me," Molly added.

Local pediatrician Dr. Jamie Isip-Cumpas backs up the moms' observations above. "Your body will produce the milk that your baby needs," the mom of three and International Certified Breastfeeding and Lactation Counselor (ICBLC) said, adding that over time, breast milk changes to adapt to your little one's needs as he grows.

It's also the reason why breastfeeding moms are encouraged to nurse even if they're sick. U.S.-certified lactation counselor Joyce Martinez explains that a mom with a cough or cold can continue to breastfeed, but she should wear a face mask to prevent her baby from getting infected. "Mother's milk provides antibodies to fight infection. It protects the baby from any organism he or she is exposed to, thus triggering your baby's immune system," she said.

Do you need any more proof why breast milk is called liquid gold?

SOURCE: https://www.smartparenting.com.ph/pregnancy/breastfeeding/breast-milk-changes-to-adapt-to-your-baby-s-health-needs-a00041-20171016?ref=article_related

This entry was posted in Article, Featured, Research and tagged Breastfeeding, Immunization, MYNP Research on Motherhood on .