Bianca Gonzalez-Intal: 'Me Doing My Best for My Daughter Is All She Needs'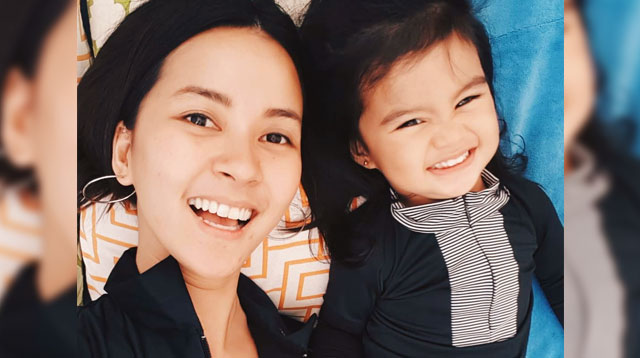 For Bianca Gonzalez-Intal, social media is a well of ideas for kid-friendly spots, good food havens, and even fun family activities, great books, and cool toys. But, in an Instagram post, another one of her "#mommydiaries," her words resonated among millennial moms once again by saying that social media also makes her insecurities worse, especially during her first few months of being a mom.

"I would scroll down my feed and just….feel bad. Feel sorry for myself. Feel like I wasn't good enough to be a mother," the TV host revealed. She was seeing moms who didn't look haggard at all from child care, "while I would be in my ratty clothes, walang ligo, at wala pang kain." She wondered what she was doing wrong because her daughter could only talk in syllables, yet one mom's child was already talking.

Bianca also made a brave admission about mommy fatigue: a smile from her daughter Lucia did NOT always wash away her feelings of exhaustion from being, well, a mom.

With Facebook or Instagram, it has become more challenging to avoid comparing parenting styles or child's milestones. In fact, the internet can be crippling because it is hard to sift through the information overload. The fatigue Bianca expresses isn't just physical — moms carry a heavy mental load.

"It was getting so overwhelming. I knew it was time for me to guard my heart," Bianca said.

To cope and drown out the social media noise, Bianca needed to accept her parenting was good enough.

"It took a long time for me to come to terms with the fact that every mother is different, just like every child is different," Bianca shared. Her insecurities and feelings of inadequacy as a mother did not go away completely, but she had discovered a way to see her social network differently.

Bianca shared what one follower wrote in the comments on one of her emotional posts: "God knew exactly what kind of mother your daughter needed, even before she was born." Bianca said she cried the first time she read it, and it is where she draws her strength from every time she feels down.

It has since become her mantra every time she feels like she's not doing enough as a mother. "I am exactly what she needs. Me doing my best for my daughter is all she needs, and other mothers are just doing their best for their babies, too," said the TV host. Her post resonated with many moms.

Whether you have a newborn, a baby or toddler, it doesn't matter. Remember that doing your best to love and care for your child is enough. Your best efforts are enough. You are enough, mom.

SOURCE: https://www.smartparenting.com.ph/parenting/real-parenting/bianca-gonzalez-intal-me-doing-my-best-for-my-daughter-is-all-she-needs-a00041-20180221?ref=home_feed_1

This entry was posted in Article, Featured, Research and tagged Celebrity Moms, Fatigue, Millennial Moms, Motherhood, MYNP Research on Motherhood, Pressure on .