How Do Different Countries Take Care Of Their Senior Citizens?
https://www.jaagore.com/current-issues/how-do-different-countries-take-care-of-their-senior-citizens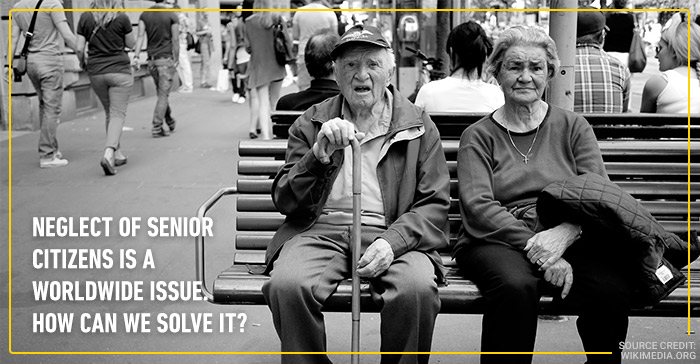 Most countries have laws in place that make it mandatory for children to look after their elderly parents, but often a lot of it remains just on paper. While the conditions of senior citizens in India is worrisome, let us take a look at the provisions that some other countries have in place for the welfare of the elderly in other countries.

Policies for senior citizens in Philippines –

Philippines has a state policy that ensures social justice and dignity to the senior citizens in the country. Here are few things the policy enlists –

20% discount and exemption on VAT on purchase of medicines, professional fees of attending physicians, dental services, utilization of services in hotels, admission rates in places for entertainment and for funeral and burial services

Exemption from payment of income taxes of senior citizens who are minimum wage workers

Establishment of exclusive 'senior citizens wards' in every Government hospital

At least 50% discount on electricity, water and telephone services for Govt. and privately run senior citizens

Needy senior citizens shall be entitled to a monthly stipend to help them sustain their everyday and medical needs. The amount is revised every 2 years by the Government

Policies for the welfare of senior citizens in Japan –

About 50% of the elderly in Japan have expressed a strong desire to work beyond the stipulated age for retirement and are ably supported by their Government. Japan's policies start from the time people are working itself, so they do not face difficulties in their twilight years and still there are issues that raise concerns over how senior citizens are cared for.

Every working person is insured of a basic pension that he/she will receive once they turn senior citizens

A senior citizen and a caregiver is paid an amount depending on the medical condition of the senior citizen so that his day-to-day needs and medical facilities are taken care of

There are community homes for the elderly with dementia, so the senior citizens can enjoy a meal and also avail of basic medical care inside the facility

Policies for the welfare of senior citizens in the UK –

2.9 million senior citizens in the UK felt that they had nobody to go to during their times of need. Senior citizens in the UK have also been expressing desire to work beyond their prescribed retirement due to rising costs in the country. Here are and policies that the Govt. has in place to help ensure the welfare of senior citizens –

Concessions are made available by the Government for a senior citizen's railroad and air travel

If a senior citizens needs someone to take of him/her, he/she is entitled to financial help for the same and this type of allowance is called Carer's Allowance

Most senior citizens are entitled to some form of pension, either from the Government or from their previous employers

Neglecting care for elderly is a very serious issue which is common all over the world. The question that we need to ask is whether senior citizens deserve to be abandoned when they need us the most, especially after they spent the best years of their lives taking care of us.

This entry was posted in Advocacy and tagged Boy Abunda, Jaagore, Senior Citizens on .